Recently, I wrote an essay about looking at our lives as humans through the window of metaphor. To see our existence as a complex structure, a pattern that depends on conditions, similar to a whirlpool.
This view of our lives is something that I have found very useful, in helping me explain what we are, and the arc that our lives follow. These metaphors have also given me comfort in my life. But, it would wrong to say that they have removed the sting of death and suffering. And, I have recently found myself worrying that the views in my last essay could be seen as cold, and indifferent when we come to the end of a life.
The very day after I published that last essay, I received a call from a close family member. They had just received some troubling medical news. While not conclusive, a scan had potentially revealed a very serious illness. The month that followed since has been a limbo as we have all waited for more information. And now, once additional tests have confirmed our original fears, we are shifting into trying to learn more about what options might be available.
I would love to be able to tell you that through all of this, that I found myself perfectly prepared for this moment by my meditation practice, by my faith. To be able to tell you that I have handled it calmly, and offered comfort to my relative and their family. To their young child. To my own spouse and children. But, to be completely honest, while I have been able to be present for my family, I have also struggled in deep way ever since I received that call.
I've cried more in the past month than probably in all of the past decade. With my spouse, on the phone with my family, alone in my car, in my office. For most of an entire month, this has been with me. In a constant, almost physical way that I am really not used to. Like carrying a heavy stone.
But, if endings are natural, and each life comes to a close when conditions change, then why do we lament the loss of a life? Is our anxiety about loss, or our grief, wrong in some sense?
Feeling stuck in this contradiction, I have thought of a poem by Issa many times over the past several weeks:
The world is a dew drop,
Yes, the world is a dew drop,
And yet, and yet . . .

Kobayashi Issa
⁠Our life as a conscious being, as a single person, is like a whirlpool that depends on the flow of the river and the rocks along the river bed. Our life is like a clear, bright note, trembling in the air, rising as our breath flows across a flute. Each whirlpool will subside. No song carries on forever. It is natural for each to come to an end.
And yet, and yet, it is also natural that we lament: each life is a precious treasure. The grief we feel is an important part of how we honor those lives, and our commitment to the wellbeing of all beings.
In his book, "Buddhism Plain and Simple," Steve Hagan shared his reflections on the pain of losing a close friend suddenly. And, he pointed to how we must acknowledge that endings, that change, are fundamental to life: "This is human life. We cannot lose sight of it. Weeds will flourish, though we hate them and wish them gone; flowers will fall, though we love them and long for them to remain."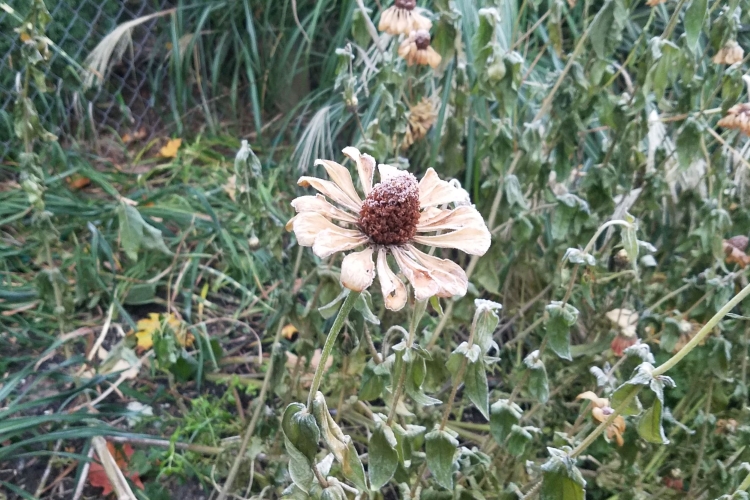 I have been deeply impacted by the teachings of Hagan and other Zen teachers who have not called on us to reject our grief. Rather, they have drawn us back to look more closely at how endings are inextricable from beginnings. And, while we will grieve, we can also see that in a deep, crucial sense, nothing is created in birth or lost in death.
As he reflected on a waterfall he saw in Yosemite National Park, Shunryu Suzuki captured this view well when he said,
… the water does not come down in as one stream, but is separated into many tiny streams. From a distance, it looks like a curtain. And I thought it must be a very difficult experience for each drop of water to come down from the top of such a high mountain… ⁠And it seems to me that our human life may be like this. We have many difficult experiences in our life. But at the same time, I thought, the water was not originally separated, but was one whole river.

Shunryu Suzuki, Zen Mind, Beginner's Mind
Zen practice, similar to a number of other meditation traditions, tries to help us look past our self, and to loosen the hold of our individual ego on how we see our life. But, the goal is not nihilistic, but rather to help us make a deep shift in perspective. Each drop in a waterfall emerges from the same river at the top, and all will merge again at the bottom. ⁠
Hagan, as he considered our desire to prevent or avoid the changes that we don't want in our lives (loss, death), also pointed back to how the contingency of life is an important part of why it is precious. Considering how we regret seeing the flowers wilt and fade, he wrote:
One solution to this problem is to ignore the real rose and substitute a plastic one, one that never dies (and never lives). But is a plastic rose what we want? No, of course not. We want the real rose. We want the one that dies. We want it because it dies, because it's fleeting, because it fades. It's this very quality that makes it precious.

Steve Hagan, Buddhism Plain and Simple
This example that Hagan uses reminds me of many stories in science fiction about immortality. Many of which explore the promise of new technology to greatly extend the human lifespan. Or, to give our consciousness life in a new body (or perhaps in a computer simulation). Greg Egan's book, "Permutation City," is a good example, where Egan considers how humans might live if we could "upload" our consciousness to computer simulations.
What I love about Egan's story is how much attention he gives to the problem that (really) long life, much less immortality, poses for us. How many of us would really be prepared to live for thousands, upon thousands, of years? Probably very few of us could, if we were to keep living in the ways that we do now. Egan thinks very carefully about this problem, and asks what a person would have to give up of themselves, how deeply they have to transform themselves, in order to truly be able to live indefinitely. His answer?  Quite a bit, and that point has resonated with me.
Like Egan, I think that most of us are not really prepared (emotionally, psychologically) to live forever. But, many of us also find the end of a life of a loved one to come too soon, no matter how old a person is. Some of our fascination with immortality, I think, is more motivated by our fear of death, rather than a real desire to exist forever.
I remember talking with my children about some story or movie about immortality, and I said to them that most people were not really looking for immortality, saying something to the effect, "It's not that people really want to live forever; they are mostly afraid of dying." ⁠
An oversimplification, true. But, I think that for me, it captures an important part of how I feel. I don't want to see the flowers wilt, or to lose the whirlpools. I don't want the song to end. I know that they can't go on forever, sure. I hope they will a little longer.
So, I personally have found this last month to be a difficult experience. There will be more tears in our future. And, that is ok. We don't know how much time we have left together. But we can savor each moment. As Scott McCloud wrote in "The Sculptor," (a graphic novel that is a beautiful meditation on death and the urge to leave a legacy):
"Every minute is an ocean… let them in… let them all in…"⁠
For me, my practice has been a comfort in this time. It has given me a refuge that I treasure. But, it has not been some kind of emotional insulation. And, I wouldn't want that: to avoid suffering by cutting off those feelings. Each life is a precious treasure, and I am grateful for the chance to enjoy this one, and that this practice has helped me to better be present for each minute of it.