When my brother started his fight with cancer, he and his wife gave everyone in the family a cancer awareness bracelet. I held on to mine for a long time, but did not wear it regularly. Looking back now, I'm not sure why I avoided it. Perhaps it had made me feel self-conscious. The idea did make me feel guilty, in a way, like I was attracting attention to myself, when it was my brother and his family who were truly suffering. For some time, the bracelets laid unused on a counter in our home.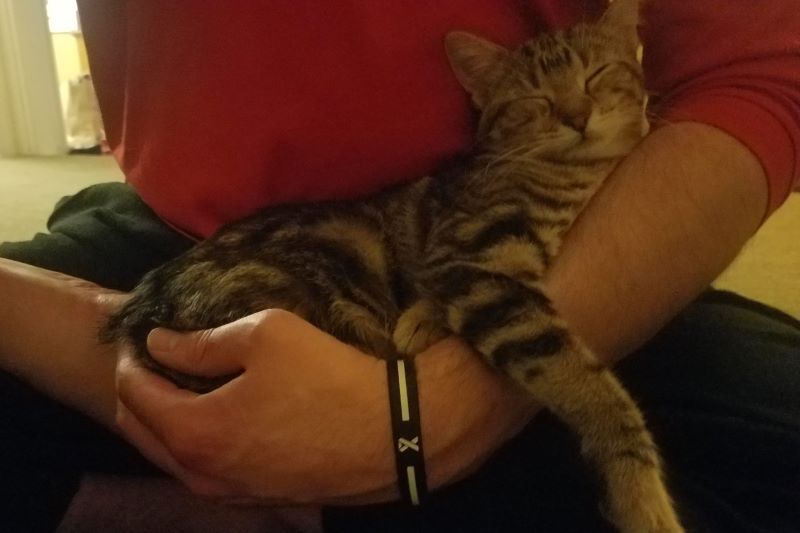 That changed at some point, though I don't remember the exact moment. We live several hours from my brother and his family's home, and in that time, I visited them as often as I could. Spending time with him and the rest of our family, and staying with him and my sister-in-law when they had to stay overnight in a hospital in Chicago for a clinical trial. I think it was on one of these trips, after seeing him struggle and seeing all of the ways that his family needed support, that I started wearing my bracelet. Especially because we live in another state, the bracelet became very important to me. It was a way to show my support, certainly. But, it also became an important reminder for me.
Each night, I would take the bracelet off, and wrap it around my glasses. In the morning, I would place it back on my wrist. This little ritual, which ended and started each day, became a call to be mindful. And, it helped me to bring my thoughts back to him each and every day. Over time, I found that I appreciated having this bracelet with me. I was grateful for it, in a deep and sometimes painful way. On days when I knew my brother was suffering, I could feel the weight of that thin silicone band. On those days, it felt like it was made of lead.
After my brother died, we were left with our grief but also with many questions. Some were the ones you'd expect, the profound why of it all. And of course, answering those questions is the work of a lifetime. But, other, more immediate questions arose that demanded concrete answers. Would he have preferred to be buried or cremated? Would he have wanted people to dress casually for his funeral service? What music would he have chosen?
For many of these small, but important, questions, we found that we were not sure of the answers. These were the kinds of questions that he had often avoided when people would bring them up. I can't blame him for that. None of us wanted to accept that time was short. We hoped for so long that he might find some treatment that worked well for his cancer. We hoped that there might be time to deal with these questions later, but in the end, the opportunity slipped past us. And so, now we found ourselves fumbling, trying to feel our way forward, and wishing that we knew what he would want if we could just ask him.
In the moment, I think that we all did the best that we could. In this life, we always have to balance responding to the moment that we actually find ourselves in, while we also try to look out and ahead, to guide ourselves skillfully as the next moment comes. Like making our way down a river, we will pass through challenging times, turbulent, treacherous waters. Our attention shifts to navigating this moment skillfully, dealing with what is right in front of us. As we move beyond, into calmer waters, we can shift this balance and start to look out and ahead again. In the middle of it all, we brought our attention to being with him through his illness. We bent all of our energy to navigating his illness. This let us be present with him, and allowed him to spend his last days in the care of his family.
I do wish we had talked over some of those details, and that he had confided in his wife or someone about what he wanted. I think he just didn't want to talk about the fact that there was an end somewhere in the future. But, as we were doing this work, preparing for the service, I realized that I was in a similar position. I, too, had been avoiding planning for the future. Avoiding thoughts about what lay beyond.
At this point, I was still wearing my bracelet. It was still a comfort to me. But now the thought came to me, how long was I going to continue wearing it? Forever? When I put it, when I had started this ritual, I never really had a plan for how long I'd wear it. Perhaps I thought I would wear forever, for the rest of my life. And, that would be fine, but I don't think that I had a clear intention to do so from the beginning. Now, I had to take stock, and decide what would make the most sense for me, and help me honor his memory.
And so, I decided that I would stop wearing the bracelet after his memorial service. When I woke up the next morning, I took it off of my glasses, and left it on my bedside table. It is still there, still a call to remember, but not one that I take out into the world every day.
Back at home, after the service, I went out for a run. I was grateful for the chance to get out and moving. The bracelet was at home, still on that table in our bedroom. I noticed though, that I could still feel it, like it was still with me. Not quite a hallucination, but the weight of the bracelet was there, it was something I could feel. It had left a mark, in a way.
A few months have passed since the memorial service, and I have kept that bracelet next to our bed. I have continued my ritual, putting the bracelet around my glasses every evening, and taking it off every morning, to help me remember him each day. I have also worn it a few times, once when one month had passed, and again when two months had passed. And another time on a random evening when I home alone in our empty house, and the weight of memory seemed heavy.
It is still heavy. But, it is also a comfort to me, and I will remain ever grateful for it.